Okay, I know how to knit but it has been many years since I've actually knitted anything and not really sure I ever really completed a project in knitting – maybe in my yarn nightmares. Well, my daughter and my yarn partner, gave me as a gift 2 skeins of a beautiful Malabrigo Mecha (color Jupiter) about 260 yards and challenged me to knit something with it versus crochet.  And it sat on my computer desk looking at me and oh how I wanted to crochet an awesome cowl for myself, but I finally picked up a pair of bamboo needles and a skein of that yarn and started to cast on stitches.
I did some internet surfing about knitting the
seed stitch
and the
moss stitch
.  I like the idea of the textured look they provide and the fact that there is really no right or wrong side to your finished item. So I decided upon a nice long scarf as my knitted project.  I cast on an even number of stitches (28) and away I went.  I elected to knit 2, purl 2, knit 2, purl 2 through my first row.  Second row was purl 2, knit 2, purl 2, knit 2 to the end of that row.  Third row was purl 2, knit 2 again and finally the Fourth row started out as a knit 2, purl 2, knit 2 purl 2 to the end of the row. So I was knitting with an even number of stitches, like the seed stitch but my design was in a 4 row increment of knit/purl, purl/knit,  purl/knit,  knit/purl like the moss stitch.  And doing the same stitch in 2 stitches before alternating to the opposite stitch for 2 times.  Hopefully, I haven't lost you yet but I really "love" the pattern created with just knitting 2 stitches then purling 2 stitches using the 4 row moss stitch design.
It makes up with a very nice edge, looks the same on either side, which will be perfect for a scarf, and the texture is just what I was looking for. I have already added on my second skein of yarn and I expect the finished scarf to be about 7″ wide x 60″ long when completed.  I used a size 7 bamboo needle for this project too.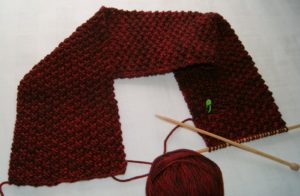 This is a design that I'm sure can be made with a wide variety of different yarn types with appropriate sized needles.  You can cast on whatever stitch count gives you the width you are looking for but remember my pattern was an even number of cast on stitches.  I think most moss stitch designs cast on an odd number of stitches. Has been fun to share this "knitting" project with my daughter as well as venturing out with some new yarn techniques.  A great way to start off the new year.
HAPPY CREATING!!
Disclaimer:  This post contains affiliate links – "Commissions Earned"