I've been in a Barbie doll crocheting mood recently – must be reflecting back on my childhood days when I played with my Barbie all the time 🙂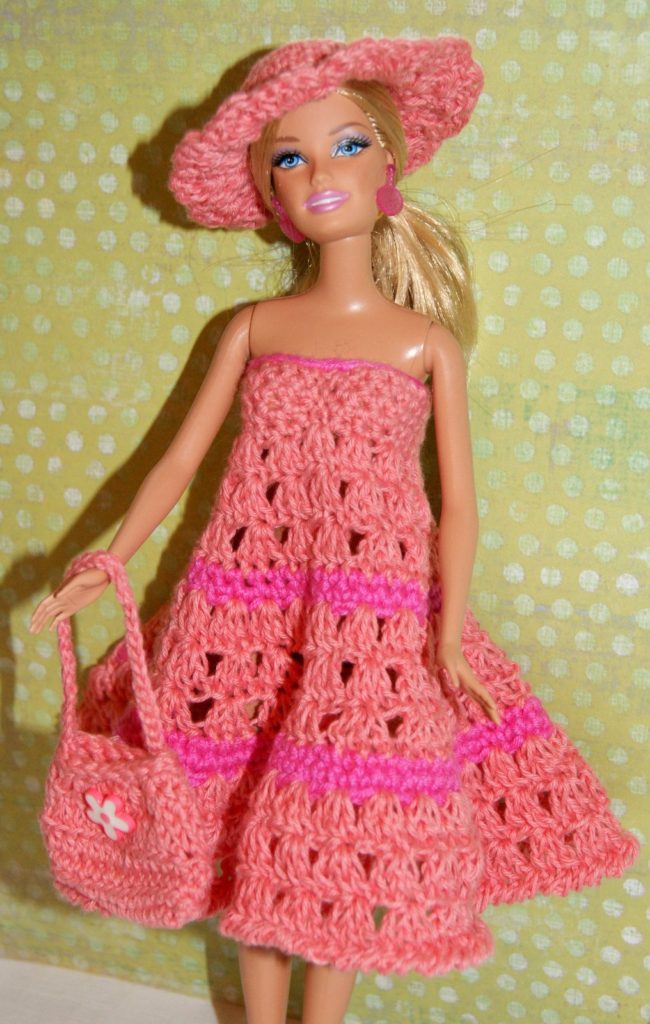 I prefer to crochet my Barbie clothing in fingering/light weight cottons or sock yarns which gives you such fun color combos.   My hook size is usually a size C (2.75mm) especially for a form fitting top and then I increase to a size D (3.25mm) or E (3.50mm) for the skirt and ruffles.  These size hooks are Susan Bates Silvalume Crochet hooks, by far, my favorite hook!!
After searching around, I did come across a fun, 
bohemian/peasant style dress that I liked.  So I hooked two variations of the pattern – making one style a full, twirly skirt and the other just a fuller style.  I added ruffles and reverse crochet along the bottom edges.   My dresses are a little snug to slide on and off because I wanted the top portion to fit securely.  You can always add straps if you want your dress to have a looser fit around the top.
You can find the cute original dress pattern at
linmary123.
I did crochet the sun hat like the original pattern and I think it adds a nice finished look to the dress.  Used my own shoulder strap
purse pattern
as a perfect accessory for Barbie's outfits. Well now, I'm on a roll so I worked up
my own design
for a form fitting dress that you can easily adjust the size to fit whatever style Barbie doll you have.  Also, this pattern accommodates a fun flirty look or a dressier evening out on the town style.  You can find this pattern here in the next couple of days.  Check out the pattern here:  
https://stitch4ever.com/2016/07/05/barbie-flirty-dress-pattern/
Have fun crocheting clothing for your Barbie dolls.  These make awesome handmade gifts too.  I always try to look for patterns that make it easy for putting on and taking off too for those little ones who enjoy Barbies but sometimes a "good style" requires a little more work to slide into 🙂 These are great crochet projects that are good for a beginner too. Use up those little leftover balls of yarn from your stash and have fun mixing your colors too.  And don't forget about adding buttons and beads to give your outfits that pizzazz!!
TIP:  My Barbie is a Belly Button style doll so you might need to increase/decrease in places to fit your specific doll.
HAPPY CREATING!!  
Disclaimer:  This post contains affiliate links – "Commissions Earned"