Here's another tutorial on the chainless foundation stitch showing how to begin using the double crochet (DC) and/or the half double crochet (HDC) stitches.  There are only 2 differences when beginning a project with these particular stitches from the
single crochet (SC) chainless foundation
. The differences are that you begin your chainless foundation with 3 chain stitches for the HDC and 4 chain stitches for the DC.  Also,  you will yarn over before you insert your hook into the top of the 2 beginning chain loops.  Otherwise, you complete your stitches exactly the same:
Complete your required number of chain stitches 2 for SC, 3 for HDC, 4 for DC
Yarn over (skip this step for single crochet chainless foundation)
Insert hook in first and middle loops of last chain from hook
Yarn over and pull through those two loops
Yarn over and pull through first (top) loop completing chain stitch
Yarn over and pull through remaining two loops to complete SC or
Yarn over and pull through remaining three loops to complete HDC or
Yarn over and pull through top TWO loops, yarn over and pull through remaining two loops to complete DC
Here are pictures for the HDC, which I hope will help you if you are totally new to this technique: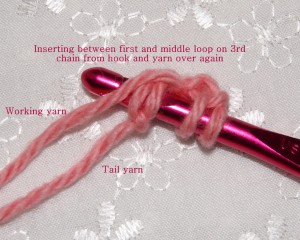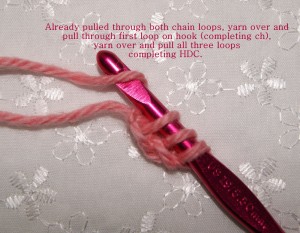 Here are examples pictures of completing a DC chainless foundation row: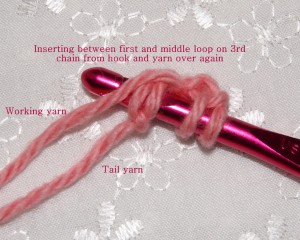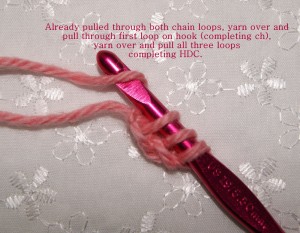 After completing steps to make your chain foundation stitch, yarn over and work the remaining stitches just like you would for a double crochet (dc) stitch. If your project wants you to work in the round, be sure to leave yourself a 4-5 inch tail for joining seams when making your beginning chain stitches.  This is a super stitch for ribbing on clothing, hats, etc.  I have designed a beanie pattern using the chainless foundation stitch crocheting the beanie from the bottom to the top.  Have been making these and donating them to my local hospital (new maternity ward) and Martin Head Huggers organization as chemo caps.   If interested in making chemo caps, you can click on this link for patterns and information
www.headhuggers.org
.
 HAPPY CREATING!!
Disclaimer:  This post contains affiliate links – "Commissions Earned"